Show me an
Ugly Website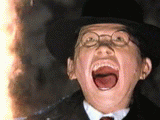 Are you searching for illumination? Get inspired to vomit – here are the most ugly websites you never searched for! We got them all, truly, sensual webdesign from the year 1878 – where classic web beauties had pixel! We take care of the eye cancer until your eyes bleed!
If we do not fully meet your taste, there is absolutely no money back, these ugly websites are there for free! So go click, until the doctor arrives!
Warranty
We assume no warranty for the view and the resulting hazards (both physically and mentally). Please note that in certain circumstances ugly websites may trigger lasting memories and horrible nightmares.
Side Effects
The acquaintance side effects range from eye cancer, bleeding eyes, destroyed screens, nausea, dizziness, spontaneous combustion to permanent flatulence.
Known remedy against ugly websites
Server destruction by spontaneous blasting, conversion of a webdesigner (necessary at least 1 priest 'wololo'), delivery of the web designer as a part of Lord Voldemort's soul, duct tape wraped around the screen, destroying of the own graphic card with a removal tool, as well as exorcism by an exercised exorcist.
FUUUUU – got me!
You would like to provide us a website, that flowed out of trend savvy webdesigner? Write us a message and send us (also possible morse code) your websites!
Allright Follow me
If you like it, give it a thumb or visit my website https://steinhuber.xyz